College Admissions: St. Joseph College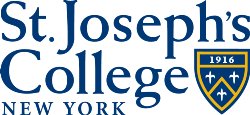 What

College Admissions: St. Joseph College

When

4/12/2022, 10:00 AM

–

12:00 PM
Seniors, if you are interested in applying to ST.JOSEPH COLLEGE please submit an application!!
Adriana Muñoz will be doing on site admissions
Tues 4/12 @10am-12pm
in the Barton University Lounge room 220
Ms. Morrah-James sent a calendar invite, click yes if you will be coming in for an interview so she can have your transcript ready.
"
St. Joseph's College (SJC) was recently ranked by Georgetown University in a new study on highest paid graduates in the nation. SJC was ranked among the top 20 colleges with alumni earning more than expected based on their choice of majors."
https://longislandweekly.com/st-josephs-college-ranks-among-colleges-with-highest-paid-graduates/

Copy to Google Calendar
•
Download iCal Event